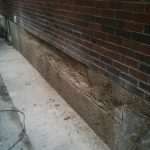 As the properties in which we live age, they can fall into a state of disrepair. Some tasks, such as repainting interior walls or replacing worn carpets are done mainly for aesthetic reasons and postponing them will not have a detrimental effect on your home. Masonry repairs, on the other hand, are a different matter entirely. If you want to protect the value and the structural integrity of your Toronto home, you need to attend to them at the earliest possible opportunity.
Why You Should Never Postpone Masonry Repair in Toronto
There are a number of outcomes, none of which are particularly pleasant, that could result from the unnecessary postponement of masonry repairs in your home.
If your property is showing signs of age and you are looking for a company that is capable of carrying out high quality masonry repair in Toronto, call Cummins Restorations today and tell us what you need. We have many years of experience in the industry and a first-class team of tradespeople ready and waiting to restore your property to its former glory so please do not hesitate to call, whatever your needs may be.