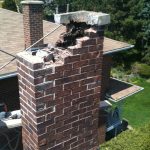 The chimney is one of the most overlooked household features in terms of being properly maintained. Many do not realize that chimneys are fragile mechanisms that require regular attention too, and one of the most important parts of a chimney to keep in good shape is the masonry. A chimney with deteriorating masonry can cause dangerous situations, as well as a significant decrease in value to the home it is attached to.
How Do I Tell When it's Time for Masonry Repair?
There are two parts of your chimney that may require masonry repair: the visible brick exterior of the chimney and the tile lining of the flue inside the chimney. Below is listed how you tell whether you need repair for each.
Brick Exterior –Like the skull protects the brain, the bricks of a chimney protect the flue. Just like the skull, cracks in the brick exterior are dangerous, and need to be looked into immediately when they are noticed. The easiest-to-notice sign that the exterior is in need of masonry repair is when the mortar cracks in between the bricks widen or seem less sturdy than they were. This means that the mortar is disintegrating, and allowing this to continue could cause structural damage. Another sign that chimney repair is needed is when cracks are visible in the bricks themselves. Bricks last significantly longer than mortar, but they can deteriorate too, and the consequences of a cracked brick can be even more severe than those of thinning mortar.
Inner Flue – The flue is where the actual smoke and debris from fires filters through to escape the chimney, and it is made of tiled stone, which is extremely important to keep in good condition. One of the easiest ways to tell that your flue lining needs repair is by observing actual flakes of flue tile falling into the fireplace during use. Being exposed for years to moisture and corrosive chemicals resulting from combustion can make the flue tiles give out.
No matter what part of your chimney is experiencing problems, issues with masonry are very serious and must be dealt with immediately if any telltale signs are noticed. Masonry and brick repair can be hugely time-consuming and labour-intensive to deal with on your own, but we at Cummins Restorations are happy to assist anyone in the Toronto area with their masonry contracting and chimney repairs.