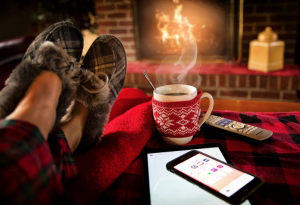 During this time of year, nothing is cozier than sitting around the fireplace, sipping some cider, and enjoying the warmth. However, regular maintenance of your fireplace is essential to keep your home warm and to reduce the chance of fires. Cleaning your fireplace is more than making sure that decorative fireplace mantels look clean. What do you need to do?
Chimney Safety
When is the best time to clean your fireplace? According to the Chimney Safety Institute of America, there should not be creosote build-up any more than 1/8th of an inch (or roughly three millimeters). Anything more than that will increase the chances of fire in your home. Look beyond the fireplace mantels and inspect your chimney carefully for build-up, leaves and debris, build-up, and even water damage.
In general, your chimney should be cleaned at least once or twice a year. Have professionals clean your chimney right before the fall when most homeowners greatly increase the use of their fireplace. If you do not clean the chimney before the fall, you risk a chimney fire due to build-up from the previous year. A simple look with a flashlight will let you know if your chimney needs to be cleaned. This is also a good time to look for little critters that have made a home in your chimney.
Tools of the Chimney Trade
While most chimney cleaning jobs require professionals, it is possible to do minor cleaning on your own. You will need several items like a broom and dustpan, chimney brush with extension, sturdy ladder, plastic tarp, dust mask, and goggles. You don't want to wear your best clothes when cleaning a chimney. Wear something old that you can discard after cleaning. Don't forget the importance of the dust mask.
Cleaning Basics
Before cleaning the chimney, you will need to protect all the items in the room, including any expensive rugs, with the tarps. Be sure to clean the chimney from the top down. It is important to remove the damper from the chimney flue. Be sure to use the wire brush to clean small nooks and crannies within reach. The chimney brush extension will help you reach every spot in your chimney. Always partner up with someone to hold the ladder for safety purposes. You want to clean the entire length of the flue, scrubbing carefully in an up and down motion.
After cleaning the top, go inside and use a brush to clean the bottom. Then with a partner, use the chimney extension to clean from the bottom up. Sweep up any debris. Remember that creosote is flammable. Be sure you dispose of it properly. Call a professional team if you are not comfortable cleaning your chimney.