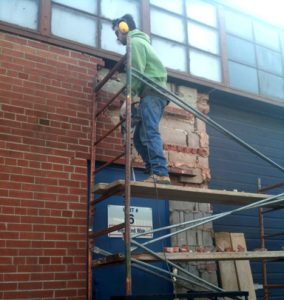 Brick has proven itself to be an exceptional building material over a very long period of time, but that doesn't mean that it's immune to damage. No, in fact it's actually fairly common for homeowners in Toronto to require brick repair (we wouldn't be in business if they didn't) in order to restore their property back to "like new" condition. But what causes the deterioration in condition of the bricks that slot together to form the shell of your home? Knowing this could potentially help you to avoid doing anything that could cause damage to your home over the long run, which is why we're going to outline four of the top factors that damage bricks during this article.
Factors that Can Lead to the Need for Brick Repair
The signs that brick repair is required are quite obvious most of the time, with diagonal cracks, bowed walls and a white residue on the bricks all indicative that something is wrong. But what causes this damage?
Moisture – If water is allowed to penetrate brick and soak into it, some serious problems can occur. There are a wide range of conditions that can lead to this including excess condensation caused by a lack of ventilation, insufficient or a complete lack of surface drainage, windblown rain, poor condition of surrounding mortar and encroaching vegetation. Water penetrating brick is a particular issue in areas of the property where the brick is provided with no shelter, such as on the roof and on the upper floors of larger buildings.
Salt – Another factor that plays a major role in the deterioration of the condition of brick, salts often make their way into the brick when contaminated water penetrates it. Two of the most common salts that can damage brick are sea salt (obviously only an issue for properties that are situated along the coast or by saltwater lakes) and the salt used for gritting the roads in Toronto in the wintertime. Salt will damage brickwork because salt crystals expand over time, eventually creating cracks and forcing the bricks apart.
Structural Fault – The development of a structural fault can cause extensive damage to the brickwork of a property and will typically be displayed in the form of large cracks. Structural faults may occur as the foundations of the building settle or perhaps due to an outside influence such as tree roots.
Vegetation – While we just mentioned that tree roots can sometimes cause serious structural faults within a building, other forms of vegetation can also often have a negative effect on the condition of your home's bricks. Creeping plants such as ivy will pry open superficial cracks and cause more extensive damage, and if there's a large surface covering of moss, it's an indicator that water has long since penetrated the brick and that there are some serious issues with moisture.
If you've noticed some signs of damage to your brickwork but you're not sure about what's causing it, contact our brick repair contractors. We have over two decades of experience carrying out brick and masonry repair, and we also carry out tuckpointing and chimney repair work too.
for brick repair in Toronto call today