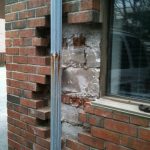 Homeowners in Toronto know how hard the climate can be on their properties and do not need reminding why they should ensure that the exterior walls of their home are maintained in excellent condition. If the exterior walls of your home have exposed brickwork, you will eventually need to have that brickwork repaired to ensure that it remains in good condition.
Signs That May Indicate the Necessity of Brick Repair for Toronto Homes
There are a few signs you can look out for before you contact a local contractor to talk about repairs to your brickwork.
Crumbling Mortar – If the mortar in between the bricks has started to crumble, it is time to have the joints tuckpointed. Leaving them as they are will only result in further deterioration of the condition of the mortar, which could lead to the second sign to look out for below.
Loose Bricks – One of the most common reasons that people contact us to enquire about masonry repair in Toronto is because they have noticed that some of the bricks in their walls have come loose, or even been dislodged completely. This is a sure sign that the mortar between the bricks is in a very poor state.
Cracked Bricks – There are a number of reasons that the bricks in your walls could develop cracks but whatever the underlying cause, they will need to be replaced with new bricks to ensure that the walls in question remain stable and sound.
White Deposit on Surface of Bricks – This is almost always salt, from the mortar in between the bricks. If you see it on the surface of the bricks of your Toronto home, it is a sign that water is penetrating the wall and the bricks themselves. As the water evaporates, the salt is left behind on the bricks. The water could be penetrating your walls due to crumbling or cracked mortar, or perhaps cracked bricks. Either way, repairs will be necessary.
At Cummins Restorations, we have dealt with all of the above symptoms countless times over the years that we have been in business so please feel free to call us if you would like any help or advice. If you would like to take advantage of our in-depth knowledge of masonry repair in Toronto, we will be delighted to provide you with a competitive quotation for the work that needs to be done.