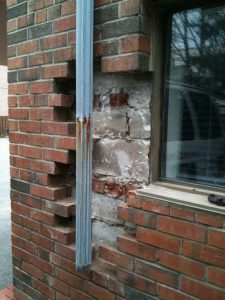 Bricks have been a popular building material for well over 2,000 years and the things that attract people to them today are the same things that made them popular with the Etruscans and the Romans after them. They're durable, easy to use, they provide a rock-solid defence against Mother Nature and they look good. But while bricks have a host of things going for them they're not indestructible and it's not at all uncommon to be mowing the lawn and spot cracks running through your home's exterior walls or chimney. In this post we'll take a look at some of the most common reasons for cracks that will have you calling for brick repair in Toronto.
4 Causes of Cracked Bricks
Given enough time brickwork will deteriorate. But cracks are not always the result of the passage of time. Sometimes they result from other causes that bring undue pressure to bear on the bricks. Here are some of those causes.
Settlement of the house: All houses settle to some degree. If the settlement is severe enough what are known as "stair step cracks" can form in the brickwork. This type of crack forms a zigzag pattern that works its way up through the brickwork on the outside of the house. If left unattended this type of crack can lead to water intrusion which can freeze and expand, aggravating the original crack structure and causing an even more serious problem.
Thermal expansion: Just as concrete roads and driveways are susceptible to cracking due to the freeze/thaw cycle so your brickwork can be compromised by expansion and contraction. Brickwork expands when heated by the sun and contracts when the sun goes down. If expansion joints were not built into the brickwork this continual expansion and contraction will take a toll on the structural integrity of the brickwork and cracks will begin to appear.
Support-related cracks: Above doors and windows bricks are often supported by steel bars that allow the brickwork to bridge the top of the opening without collapsing. Problem is this steel undergoes temperature related expansion and contraction that is different than that of the brick it's supporting. The difference between the expansion/contraction rates of the different materials creates stress that can cause the weaker material (the brick) to crack.
Cracks due to bulging: If brickwork has not been properly reinforced it can begin to bow or bulge with the passage of time. The bulging will put incredible stresses on the brick causing it to develop cracks. A bulging wall is no laughing matter and needs to be addressed promptly and effectively lest the wall give in to the forces of gravity and collapse.
First Class Brick Repair Toronto
Cummins Restorations are experts in the field of brickwork installation and brick repair in Toronto. We can effectively fix any cracking issues you may be having with your brickwork in a fast and affordable manner. To schedule brick repair in Toronto or if you have masonry-related questions or issues call Cummins Restorations on (416) 992-7965.