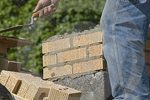 The chimney is one of the most visible features of the home. It serves a variety of functions from providing a focal point for the home's exterior design to venting smoke and gases from the fireplace and/or furnace safely into the outside world. But because they are basically little more than tall columns of stacked brick they're susceptible to a variety of forces that can cause their structural integrity to deteriorate and require repair. When that happens you'll want to effect repairs promptly lest a relatively minor problem mushroom into one that's difficult and expensive to remediate.
Chimney Repair Toronto: Don't Put it Off
While bricks are an incredibly resilient building material they're still susceptible to wear and tear; especially in a city like Toronto with such an extreme and unforgiving climate. Eventually that wear and tear can become so pronounced that you'll have to call for chimney repair. Toronto homeowners need to know the warning signs that indicate repair work is urgently called for. Those signs include:
Water infiltrating the chimney: Water that enters the flue can mix with creosote to damage the damper and eat away at the brickwork. Besides the flue there are a number of other ways water can enter the chimney structure including settlement cracks and a poorly designed flashing. Water infiltrating the chimney structure can also cause damage adjacent drywall, wiring, paint jobs and more.
Compromised mortar: Mortar holds the stack together and prevents water intrusion and worse. Compromised mortar joints can lead to bug infestations and water freezing and thawing inside the joint, creating even larger and more serious structural problems down the road. Repointing the mortar joints is an important part of chimney maintenance and should never be delayed if you notice visible gaps in your chimney's mortar work.
Cracks: Cracks, particularly those inside the chimney structure, can be a serious fire hazard for the house. That's because creosote can gather in cracks until one day it's ignited by a stray spark or ember rising from the fireplace. It's vitally important to keep the chimney free of cracks by having regular inspections performed and having any cracks that may be found repaired immediately.
Damaged flue tiles: The tiles that form the lining of the flue are important for keeping the outside out and smoke and gases moving properly upward and out of the house. Not pursuing cracked tiles with vigour can result in compromised draft in the chimney and the backing up of the aforementioned smoke and gases into the home. If you notice small bits of broken tile in your fireplace don't hesitate to call for chimney repair in Toronto.
Chimney repair for Toronto homes is serious business. Poorly designed and built chimneys, along with chimneys that have been damaged by weather or some natural disaster or another all need to be repaired as quickly as possible to ensure your family's safety and security. Call Cummins Restorations on (416) 992-7965 to schedule chimney repair work or to discuss any masonry related project you may be ready to undertake.