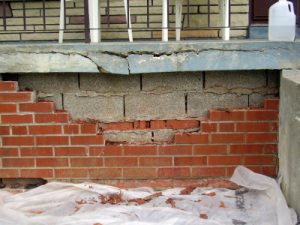 When in perfect condition, an exterior constructed from brick and masonry can look stunning and really enhance how your home appears. Not only that, but this combination is also one of the strongest that exists and can tolerate conditions that would cause lesser construction materials and techniques to deteriorate far quicker. These qualities have seen brick and masonry become the favoured choice for many people all over the city of Toronto and the rest of the world. But these exteriors aren't indestructible (no exterior is unfortunately) and it's vital that the proper maintenance is carried out and the necessary masonry repair is completed when required. But even more important is that the masonry repair is done correctly and mistakes, which could lead to repeated and more extensive damage, are not made.
Masonry Repair Mistakes: What Shouldn't Be Done When Repairing Damage
While masonry repair errors shouldn't be an issue if you are thorough when assessing the various masonry contractors that you could hire, it is handy to know what they are and to be able to spot them if they occur. Here are a few of the most common ones:
Selecting the Wrong Mortar – The mortar that is used when carrying out masonry repair should always be chosen according to the bricks that the exterior is made from and the style of the property in general. There is nothing worse than combining a mortar with a modern appearance with period style brickwork. The end result is often something that the homeowner wants to hide rather than show off!
Incorrect Installation of Flashing – All reputable masonry contractors know just how important the flashing is and will take extra care to ensure that it is installed correctly. It's a very simple concept whereby strips are placed at certain points in the brickwork at an angle, and water that drips through strategically placed weep holes will hit these strips and be channelled away from the wall. However, a common issue is to create weep holes that are either too small or too few in number.
Failing to Investigate the Problem Further – Sometimes the issue that you can see with your eyes is just a "symptom" of a more serious underlying problem. Not investigating an obvious problem further and simply carrying out a masonry repair on the obvious issue is a big mistake and can result in a repeat of this same issue and possible long term damage to your home.
Not Cleaning the Affected Area – If you've noticed a crack in your masonry and it needs repointing, the affected area should always be thoroughly cleaned before anything else is done. This is because if dust and debris is left inside the crack, it can prevent the new mortar that is applied from bonding properly and it may fall away soon after.
For help diagnosing a masonry repair problem or to receive a no obligation quote, please contact our team today on (416) 992-7965.