The brick wall outside your building or home is cracked, with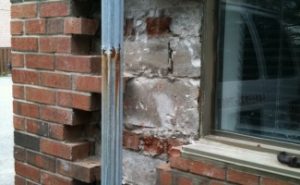 exposed brick that has been slowly worn away by the elements. Parging will add an extra coat of protection to your wall, but you are not sure. Snow, rain, and ice have chipped away at the wall. Not only is it pretty ugly, but you know if you continue to ignore it that you will have to deal with a much bigger, more expensive problem.  Is parging necessary?
What is Parging?
Parging is an extra protective coat applied to your building or home foundation and walls. Sometimes made of cement or a mix that includes liquid acrylic, parging can provide an extra line of defense against the harsh elements. Over time snow, ice, rain, and water will tear away at exposed foundations and walls. Additional environmental factors like pollution and dirt, also take away from the aesthetic beauty of your home. Over time, minor cracks and holes can give way to major foundation and structural issues. These problems build up over time and can end up costing significant resources, time, and stress.
Is Parging Necessary?
When you are considering the cost of new construction or renovating an older building, consider the long-term benefits of parging. There are different options available for older buildings and new construction. Speak with your contractor about the key differences. You may find that you only have to do minor repairs to an existent foundation or wall. Prevent new buildings from damage caused by precipitation, snow, and environmental factors. Provide a new line of defense for years. Give your foundation the care that it needs.
Parging is not just about aesthetics. This extra coat is an affordable way to address existent problems like cracks and holes in the foundation. Prevent expensive construction later by speaking with your contractor about improving your home or building with parging. Avoid lasting permanent damage with an extra protective coat.
What's Next?
Find a professional that has years of masonry experience and reliable service. Ask for references and review previous work completed. Ask about what options are available like using liquid acrylic mixes or choosing different colors and textures. Find out the most economical way that parging can improve the overall look and durability of your home or business. There are a variety of options, from simply repairing a small crack to parging an entire foundation, basement, or wall.
Don't let a worn-down wall or foundation take away from your home's beauty. Add extra value and protection to your business. Parging is an easy and affordable way to enhance the overall structural quality and aesthetics of your building.