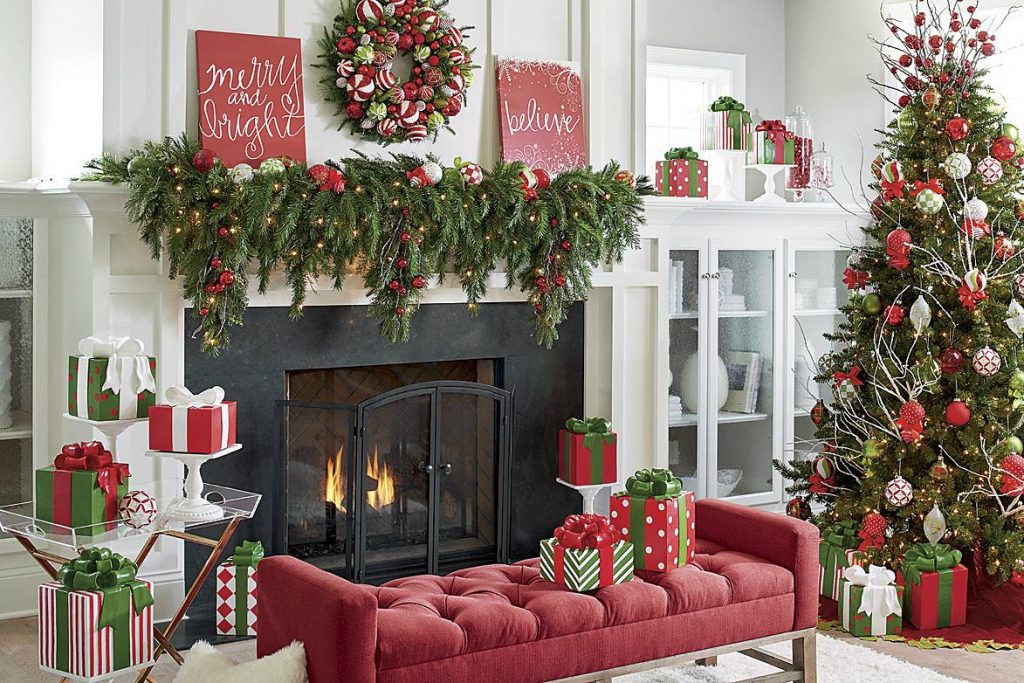 Toss out the idea that the only way your fireplace is going to deck the halls is by hanging stockings! While garland and stockings are classic, there are so many other details and styles you can use to transform your fireplace into a warm winter wonderland.
Display Christmas Cards
Never know what to do with all those Christmas cards. Put them on display! Take advantage of a two-tier mantel by personalizing one level with Christmas cards and small wreaths and candles on the top. Or alternate cards, candles, and wreaths if you have only one level. This is a great way to reminisce on your favorite Christmas cards over the years.
Choose a Super Lush Garland
Wondering how to add a little wow factor to your mantel without removing the artwork you already have? No need to swap it out! A large, lush garland will do the trick of adding Holiday flair while distracting from the existing decor.. Add some stockings as well for a little extra umph.
Balance Laidback With Festive
It's all about balance! If you're keeping it simple by just placing a garland on the mantel and leaning a wreath against the wall behind it, then add some colorful ribbons for a touch of whimsy.
Line Up Extra Tall Candles
Garlands and an antique clock are mantel classics, but if you want a little something extra, add a collection of super tall tapered candles. It'll make your fireplace look extra atmospheric at night.
Create A Christmas Scene
Create a Christmas scene across your mantel! Either red block letters placed upon faux snow, or small figurines that play out your favorite Christmas story. Line the mantel with small string lights or hang a reef on the wall above the mantel for a little extra festiveness.
We hope these decorative fireplace ideas have steered you in the right direction. For more on all things fireplace, contact our helpful team today at (416) 992-7965 or cumminsrestoration@rogers.com.