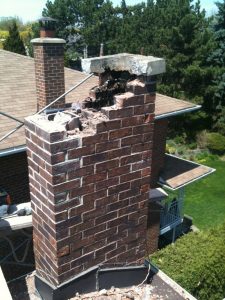 First of all, we recommend that you contact 2 or 3 reputable contractors for quotations, even if you are sure that you would like to use our services! We know that we are highly competitive as well as highly skilled but we want you to be sure you are making the right choice when you hire us to repair your chimney. To give you an idea of the type of estimates you are likely to receive, we have put together a list of the factors that are most likely to influence the overall cost, which you can find in the section below.
How Much Will Your Chimney Repair in Toronto Cost?
Whilst not an exhaustive list, most of the more obvious factors are contained in the following list. By reading through it and looking at your own chimney, you should be able to ascertain whether it is going to be a relatively inexpensive job or one that might require a substantial outlay.
Size – The most obvious factor to consider, especially when a fairly comprehensive rebuild is in order, is the height of your chimney. The width is probably standard but height can vary significantly from one building to the next. Generally speaking, the taller your chimney, the more it is going to cost to rebuild or repair. Relatively minor repair jobs, such as repointing the mortar joints, can also be estimated fairly accurately by considering the height of the chimney first and foremost.
Condition – The worse the current condition of your chimney, the more it is going to cost to repair. No matter who you hire to carry out your chimney repair in Toronto, the amount that they charge for labour and repairs will reflect the state of your chimney as it stands right now. While this may give you pause for thought, especially if your chimney is in a particularly poor state of repair, you should bear in mind that it is only going to get worse so the sooner you have it fixed, the cheaper it will be.
Location – If your property is of a fairly standard size and design, this factor may not play much of a part in the final price. On the other hand, if you live in a house that is particularly tall and features a chimney in a hard-to-reach location, you can expect to pay more for your chimney repair in Toronto than would otherwise be the case. A higher roof, for example, will require more scaffolding and will therefore increase the cost of both materials and labour.
Additional Parts – If the condition of your chimney is such that it requires the replacement of certain major parts, such as the crown, this will inevitably lead to higher costs than if all that needs doing is a simple repointing of the mortar joints between the masonry.
Call Cummins Restorations right now to request a comprehensive quotation for chimney repair in Toronto. We look forward to assisting you in the very near future.