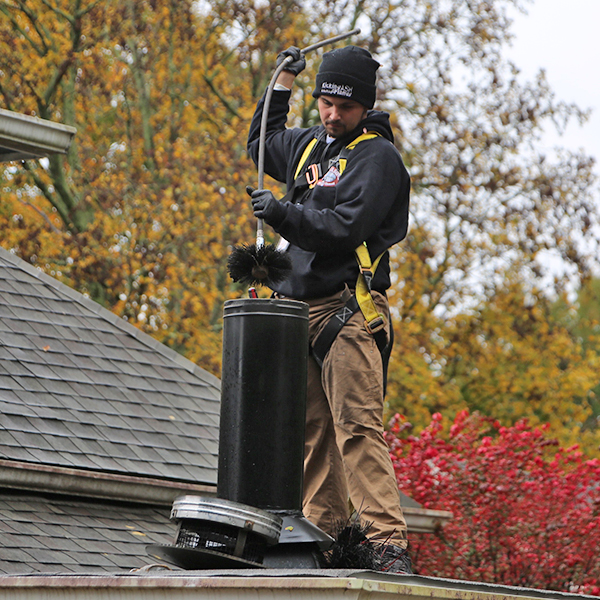 Winter is on the way, which means your fireplace is about to be the central feature of your home once again. Fireplaces inspire warmth and togetherness, but in order to do so, they must be safe, clean, and operational. Before you open the flue and light the first fire of the season, you'll want to take care of some necessary maintenance. Follow our Fall chimney maintenance tips to get started!
Which Type of Fireplace Do You Have?
The different problems associated with different fuel services will determine what type of maintenance your chimney needs to undergo.
Wood-Burning Fireplace – Those with wood-burning fireplaces should hire a chimney sweep as part of their Fall chimney maintenance list. The sweep will remove all deposits and creosote, so you can safely light a fire at the first bite of cold. Along with a sweep, you should also undergo a full chimney inspection. Review gaskets, doors, the damper, lining, and for any cracks in the bricks.
Gas-Burning Fireplace – While gas tends to be a cleaner burn than wood, you should still have your chimney swept for a thorough cleaning. An inspection and cleaning will also be able to remove any pest activity, damage to the structure, and lining. Homeowners should also hire a gas technician to inspect the burner airway, as well as give everything good clean. This is of utmost importance for preventing a gas leak.
Check Your Alarms!
No matter what type of fireplace you have, ensuring alarms are in working order is top priority. Check your smoke and carbon monoxide alarms; test that they work and have plenty of battery in the event of an emergency.
Looking for a reputable company to help with your chimney inspection or brick and mortar repair? For more than two decades the masons at Cummins Restoration have been providing the highest quality craftsmanship and service to our clients. Call Cummins Restorations at (416) 992-7965 for brick repair in Toronto today!