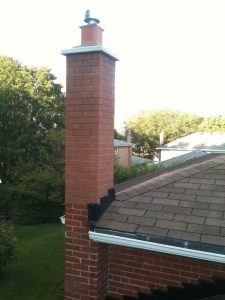 Chimney bricks themselves can easily last over a hundred years, but the mortar that holds the bricks together, a porous concrete mixture, is likely to begin deteriorating every 25 years or so. If this is allowed to happen, the chimney will eventually collapse, causing damage to the home it was attached to and necessitating a costly rebuild of the entire chimney.
A much less hazardous and less costly option is to invest in tuckpointing – the process of replacing the mortar on the cracks between bricks that look problematic.
What Benefits Does Tuckpointing Have?
By tuckpointing your chimney, you will:
Prevent water from seeping through old mortar and into the chimney. Said water can cause structural damage and cause mold or mildew, creating additional blockage and a bad smell in the chimney.
Increase the value of your home, as a chimney with healthy masonry is a big selling point.
Obviously, improve the structural integrity of your chimney, preventing the immediate need for chimney repair.
Can I Do it Myself?
Tuckpointing is a very complicated process that entails:
Meticulously scraping away any mortar that looks like it needs replacing.
Mixing new mortar that agrees with the type and exact color of the old mortar that is still good.
Carefully spreading the new mortar.
Cleaning up any excess mortar that has dripped onto bricks before it dries.
You can do it by yourself, in which case you may benefit slightly from a less costly and, possibly, more customizable experience. It is highly recommended you hire professionals for the task, however, for several reasons.
Doing it yourself can be extremely dangerous in a number of ways. Firstly, any job that requires you to climb over a story up on a ladder and perform a laborious but detail-oriented task while you're up there means risking life and limb. Second, the mortar holding together chimneys is a hotspot for creosote and other toxic materials.
Unless the person performing the procedure is a trained expert, it is a very time-consuming task. The many hours you will save by hiring a chimney repair service to do it will more than compensate for the modest fee.
The chimney is a major attraction to potential home-buyers, and making mistakes while doing it yourself will devalue your home.
Luckily, the highly-skilled craftsmen at the Toronto-based Cummins Restorations are eager to perform your tuckpointing and keep your chimney safe for many years to come.