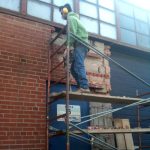 Masonry contracting is one of the oldest forms of construction work on earth. Hiring a masonry contractor is not like hiring any other worker to perform a routine construction job on your house. No, these particular construction workers provide the full package of keeping your home and you safe while significantly increasing your property's value.
Why Hire a Masonry Contractor?
Below are a few reasons why masonry contractors are a worthwhile investment.
At Cummins Restorations, we are ready and eager to supply you with any kind of masonry contractor you need, be it brick mason, stone mason, concrete mason, or tile setter. For years, we have been supplying homeowners in the Toronto area with the right personnel to complete work on their homes, and we want to add you to that growing list of satisfied customers.