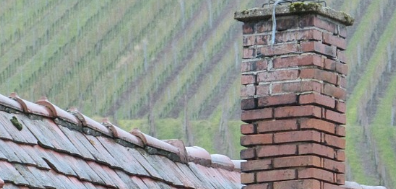 An unstable chimney detracts from the home's overall curb appeal and can present a danger to your family and valuables. Regular chimney repair and maintenance, chimney repointing, fixing a leaning chimney, and replacement will ensure that you and your family will enjoy years of warmth and comfort. What are the costs of repairing a leaning chimney?
No Time to Wait
A leaning chimney often points to serious structural and foundational issues with your chimney. While regular maintenance and chimney repointing helps, if you have a leaning chimney, it is important to speak with a chimney repair professional today. A leaning chimney can collapse at any time, landing on a house, roof, or vehicle. Additionally, an unstable chimney presents a serious fire hazard and an opportunity for irreparable water damage from precipitation.
Take the time to identify the structural problems. For example, does your chimney seem to be leaning away from your house or falling onto the yard? Does it seem to be falling towards your roof? If you do not know what to look for, call our professionals today about an inspection.
Chimney failure can be because of inferior footing, water drainage issues, or inferior soil under your chimney. This is a significant problem that needs to be taken care of before further damage occurs. Fortunately, once you repair the leaning chimney with a quality chimney repair contractor, you will enjoy your chimney for years to come.
How Much Does Leaning Chimney Repair Cost?
Leaning chimneys often point to a foundational issue in the home. The brick pulls away from the side of the house. Expect to spend a few thousand dollars to repair this issue. However, a chimney repair professional will be able to most accurately assess the actual damage done and find ways to repair your chimney within your budget with the best materials.