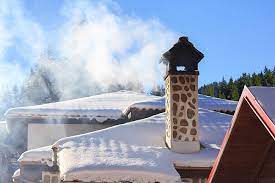 Ensure your chimney is prepared for those cozy evenings beside the fire in the cold months of winter! Winterizing your home includes checking the roof, preventing drafts, and – yes – preparing your chimney. It is vital that your chimney is not only clean, but safe, before igniting those flames. That's why we have put together this step by step guide on how to prepare your chimney for Winter. 
Hire A Professional Chimney Sweep
Your chimney should be swept and inspected once, if not twice a year to make sure it is in perfect condition for use. We recommend before the first fire of the season and immediately after it has ended. A professional chimney sweep is able to give your chimney a thorough cleanse; meticulously ridding the chimney of debris or soot. More importantly, they will also be able to spot any damage that may need repairing. While the chimney sweep does their thing, you may want to clean the fireplace. This includes the glass, surrounding bricks, and disposing of leftover wood.
Install A Chimney Flue Draft Excluder
Having an open chimney is comparable to leaving a window open all the time. To reduce this phenomenon and prepare your chimney for Winter, consider investing in a removable chimney draft excluder. These are typically made out of felt or wool. And can be placed into the throat of a working fireplace when not in use. Reducing 94% of airflow drafts, Making your home warmer and more energy efficient.
Gather Your Wood
When preparing a chimney for winter, making sure you have a plentiful supply of wood is an essential! Never burn wet, treated, polished, varnished or oiled woods. You should also avoid waste woods such as disposed pallets or furniture. Softwoods produce more smoke, so we recommend hardwood species such as ash, oak, beech, or burch, which will burn cleaner, longer, and brighter.. Good quality hardwood species such as ash, oak, beech or birch will burn the cleanest and longest. Avoid soft woods such as pine, firs and cypress, which burn too quickly and produce more smoke.'
Add The Finishing Touches
Once your chimney has been swept, your fireplace cleaned, and your logs gathered, it's time to add some final touches. Decorative and comforting details around your fireplace enhance feelings of coziness.
Do you feel like your Chimney is prepared for Winter? Tell us if you followed any of our tips in the comments! And if you need masonry repair for your chimney before Winter, call Cummins Restorations at (416) 992-7965 for brick repair in Toronto today!