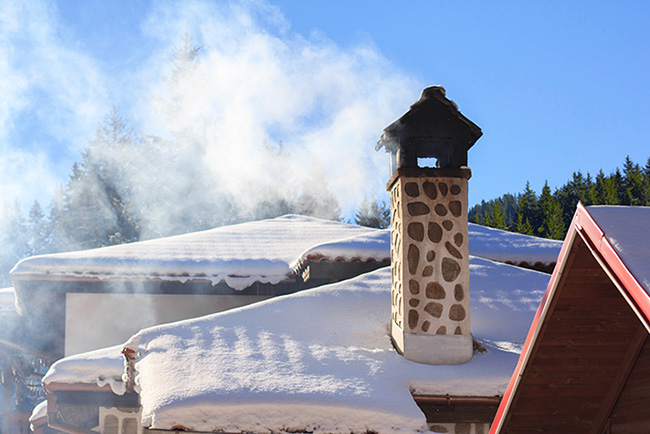 It's not just you who is shivering and ready for warmer weather. Your chimney is likely feeling the effects of wintertime too! In fact, cooler temperatures along with snow and ice can have drastic effects on your chimney. So how can you keep your chimney safe during the winter season? Keep an eye out for these common cold weather problems.
Backdrafts
Nobody wants a smokey home. Especially when that smoke is host to the silent and deadly carbon monoxide. During the winter, your chimney is prone to absorbing the outside temperature. This absorption adds a block of cold, heavy air that can impede the lighter and warmer air…AKA smoke…from exiting the chimney. If this is the only reason you're experiencing backdrafts, the solution is as simple as holding some kindling past the damper to warm the flue before enjoying your fire.
Cozy Critters
There's nothing like escaping out from the cold into a cozy, warm interior. Critters such as squirrels and raccoons agree! Since they can't walk through your front door, they go for the next best option: your chimney. These animals and other debris, such as nesting material for the Spring, can impede smoke from drafting properly and, in some cases, even lead to fire. Luckily, maintaining a regular inspection and chimney cleaning can uncover any cozy critters. And installing a full-width chimney cap can easily keep animals as well as other debris from entering the chimney.
Leaky Chimney
Nobody likes a leaky chimney! Unfortunately, the drastic temperatures of Canadian winters can inflict a lot of masonry damage, ultimately leading to chimney leaks. Water from melting snow enters small cracks present in the bricks and mortar. When the temperature reaches freezing, this moisture expands. The constant cycle of freezing and thawing eventually creates decay inside the structure. Luckily, this damage can be fixed either through brick replacement, tuckpointing, partial chimney rebuilding or, in minor cases, a water-sealant application.
Wondering if Winter's cold weather has been hard on your chimney's masonry? Contact us at Cummins Restorations today. We can evaluate any wintertime chimney damage and restore your chimney back to safety in no time!