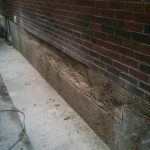 As the properties in which we live age, they can fall into a state of disrepair. Some tasks, such as repainting interior walls or replacing worn carpets are done mainly for aesthetic reasons and postponing them will not have a detrimental effect on your home. Masonry repairs, on the other hand, are a different matter entirely. If you want to protect the value and the structural integrity of your Toronto home, you need to attend to them at the earliest possible opportunity.
Why You Should Never Postpone Masonry Repair in Toronto
There are a number of outcomes, none of which are particularly pleasant, that could result from the unnecessary postponement of masonry repairs in your home.
Chimney Repairs – If the mortar joints between the bricks in your chimney have deteriorated over time, water could penetrate them and cause even more damage. In the worst cases, this can lead to total collapse of the chimney.
Repairs to Brick Walls – The mortar joins in your Toronto home's exterior walls can also degrade over time and if neglected, bricks can eventually come loose, threatening the structural integrity of your property as well as posing a danger to yourself and your family. Damaged bricks should be replaced, with new mortar to hold them in position.
Parging Repairs– If the surface of your exterior walls have large cracks running through them, parging (the application of a new layer of plaster or mortar) can restore them to their original condition. Leaving them as they are could result in the rapid deterioration of these surfaces as water and ice are able to penetrate the walls.
Tuckpointing – Removing the outer layer of mortar from between bricks and replacing it with fresh mortar is a common masonry repair in Toronto and can help to ensure that brick walls remain in excellent condition. Crumbling mortar, if left to its own devices, could eventually threaten the stability of the wall in question.
If your property is showing signs of age and you are looking for a company that is capable of carrying out high quality masonry repair in Toronto, call Cummins Restorations today and tell us what you need. We have many years of experience in the industry and a first-class team of tradespeople ready and waiting to restore your property to its former glory so please do not hesitate to call, whatever your needs may be.