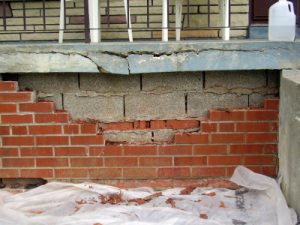 The bricks walls that represent the exterior of our homes are constantly exposed to a range of weather conditions, which can be particularly punishing in the Toronto area at times, and it's only normal that this will have an effect on their condition over time. This rate of deterioration is further exaggerated if the wall was poorly constructed in the first place or has been poorly maintained over the years. There comes a point where it becomes necessary to contact a brick repair specialist to improve the condition of these walls, otherwise the wall might be in serious danger of collapsing. The question that many people struggle to get right is "when" to make that call. Cummins Restorations Inc. deals with a wide range of masonry repair problems every year, including brick repair, and during this article we're going to point out a few of the telltale signs that indicate that you do need to make that call.
Signs that a Call to a Brick Repair Specialist is a Must
Being able to spot signs of deterioration early is key to maintaining "healthy" walls at your property, as this provides you with the opportunity to do something about it before the issue becomes too serious. In particular, we would recommend that you watch out for the following signs:
White Powder on the Wall – This white powder is what masonry repair professionals refer to as efflorescence and is an indication that a considerable amount of moisture has accumulated in the brick wall over a significant period of time. As a result, your wall is no longer able to dry out as it normally would. Why is this "white powder" left behind? Well, the moisture we just mentioned that is inside the wall either carries soluble salt itself or it has been dissolved from the mortar that connects the bricks in the wall, and when this water moves to outside of the wall and eventually evaporates, it get's left behind. The powder is not actually a major issue in itself (besides making your wall look unsightly), rather it's an indicator that something is wrong, usually with the wall's drainage cavity, which can get blocked.
Diagonal Cracks- It's a cause for concern should you notice diagonal cracks in your property's walls, particularly if they are located around the windows. This problem can actually be caused by the process we outlined in the last point, but can also be caused should the condition of the shelf angles deteriorate. These shelf angles provide support to the bricks and are typically made from steel, but if they come into contact with excessive amounts of moisture, over time they can corrode, which causes them to weaken and move. This places more pressure on the bricks, which can lead to diagonal cracks. Should you notice this problem a call to a brick repair specialist is definitely necessary, as once the supporting shelf angles are no longer serving their purpose, the entire wall could collapse should you experience turbulent weather conditions in your local area.
The Wall is Bowed – If you notice this problem, don't put off calling our brick repair team, otherwise the consequences could be devastating. How can a brick wall become bowed? Well, as the bricks take on moisture over a lengthy period of time they will usually expand, which continually cranks up the pressure on the corners of the wall, eventually causing the wall to "move" either in an inward or an outward direction. Eventually the corners of the wall will crack and brick repair becomes a necessity.
If you notice any of the above problems, contact our brick repair team today.