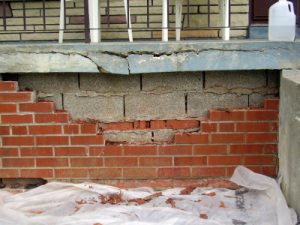 You probably don't pay much attention to the condition of the material that your home is made from, whether that be brick or stone. After all, it lasts forever, right? While the actual material is able to last for a long, long time (a century is not uncommon), the material that is used to join the bricks or stone together isn't able to last for quite so long. These are known as mortar joints, and when exposed to tough weather conditions such as those found in Toronto, they may show signs of wear and tear after approximately 20 years. This is when tuckpointing is required, which is essentially repairing damaged mortar joints. If you're not sure what tuckpointing involves or when it might be required, keep reading as we're going to point out a number of things you need to know before contacting a masonry repair contractor.
Tuckpointing: What is it and When Your Property Might Require it
Cummins Restorations Inc. is a family run business that has been serving homeowners throughout the Greater Toronto Area for more than 20 years and during that time educating our clients to the best of our ability has always been something we've been committed to. There are a number of misconceptions floating around about tuckpointing and we would like to use this blog post to "set the record straight."
What Does it Involve? – As already mentioned, tuckpointing at its most basic is simply repairing damaged mortar joints. When a masonry repair contractor does this, they remove the old mortar (but only to a certain depth obviously), before replacing it with new mortar, thus strengthening these joints (which is the primary goal) and improving the aesthetics of the exterior of your property.
Does Your Property Require Tuckpointing? – Many people struggle with determining when they need to make that call to a masonry repair contractor to have tuckpointing done. However, in reality it's not all that complicated to tell whether it needs to be done or not. Simply scrape a key along the surface of one of the mortar joints and if it turns the mortar to powder, you need to make that call, and if it doesn't, you don't.
Is Tuckpointing Really Necessary? – There's no clearer way to say this than "YES." If the mortar joints at your property have deteriorated, it's absolutely vital that tuckpointing is done, otherwise the weakened joints may cause accelerated weathering of the bricks or stones that make up your home. And if that happens, moisture may be provided with a path inside your property, which leads to a whole host of problems such as lower energy efficiency levels, mold and mildew growth, poorer living conditions etc.
Tuckpointing Can Save You A LOT of Money – If you don't tuckpoint at the right time and the condition of your walls deteriorates considerably, the only solution might be to tear them down and start again. As you can imagine, that would cost considerably more than tuckpointing would.
Will Tuckpointing Always Fix the Problem? – No! If done too late it won't have much of an effect. You can tell this is the case if the bricks or stones that form your wall have already become loose. Tuckpointing is designed to prevent the situation from getting as bad as this, but if it's already at this stage the wall may need to be completely rebuilt.
If you require further information on tuckpointing, give our masonry contractors a call.