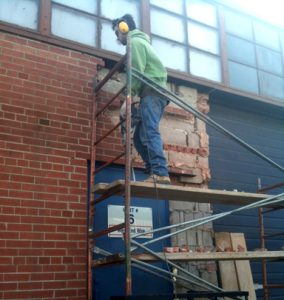 When it comes to building with masonry in Toronto you have two principal choices for your brick home: solid masonry or brick veneer. While solid masonry (also called "solid brick") and brick veneer buildings both employ real bricks in their construction, they do so in fundamentally different ways that will affect costs, construction times and the durability of your home.
Solid brick – With solid brick homes a double thick layer of bricks – or a layer of concrete block and a layer of brick – is used to form the exterior of the house. This method calls for the double layer of brick or adjoining layers of concrete and brick to actually bear the load of the house. In other words the bricks are a structural element.
Brick veneer – A so-called "brick veneer" house by comparison has exterior walls with steel or wood framing that bear the load of the house. Once this structural skeleton is in place it's sheathed in wood and the layer of brick is built immediately in front of the shell and affixed to the structure using metal ties. The brick is thus relieved of load-bearing responsibilities.
More About the Different Types of Masonry in Toronto
While real bricks are employed in both homes made of solid masonry in Toronto and brick veneer homes they're applied in ways that leave tell-tale signs building inspectors and others can use to determine what type of brick home you have. Some of those signs include:
For Solid Brick
Reinforced window arches – In solid brick homes you'll commonly see inward facing bricks in the area surrounding the windows. This is done to buttress the structural integrity of the opening and is a "tell" that the house is solid brick.
"Header" bricks – Header bricks are laid perpendicular to the rest of the bricks and form a bridge between layers that increases stability and strength of the wall. With header bricks only their end will be visible.
For Brick Veneer
Weep holes – Typically the layer of brick will sit 1 or 2 inches away from the load bearing wall and "weep holes" are used to ensure moisture in the space between the brick and the wood frame is allowed to vent.
Lack of header bricks – Another "tell" that a wall is brick veneer and not solid brick is the lack of header bricks and their distinctive butt-end profile that's generated by placing the header brick perpendicular to the rest of the wall.
Benefits of Solid Masonry
The benefits of solid brick walls are greater stability and resistance to extreme weather or other environmental conditions. It's not unusual for solid masonry homes to last centuries. They're also impervious to termites and the walls will never rot.
Benefits of Brick Veneer
The benefits of brick veneer include affordability, ease of installation, the fact that a lighter (and so less expensive) foundation can be used and the fact that the space between the brick and wood frame acts as an effective insulating layer.
For more information on brick homes or general questions about masonry in Toronto call Cummins Restorations Inc. today on (416) 992-7965.