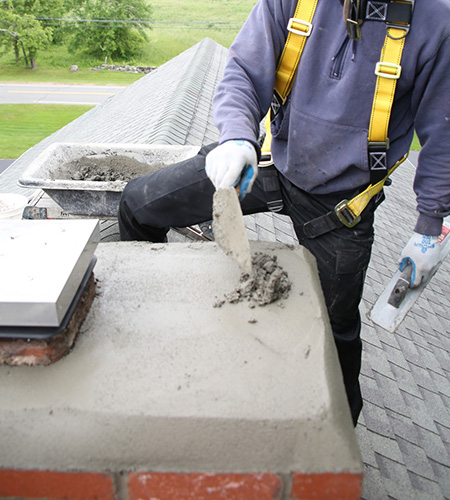 Winter is nearly upon us, which makes ensuring  your chimney is in proper order should be top on your to do list! If you find your chimney is in need of repair, there are several steps you can take to remedy the situation. Left unchecked, these repairs can accumulate and result in disaster for roof systems and interior ceilings, insulation, wall studs, and even floors. Note that existing extensive damage will need to be remedied by a professional. Have your chimney inspected today to know exactly what you're dealing with!
1. Repoint The Chimney Mortar
Mortar deteriorates faster than brick. Repointing, or tuckpointing, is the process of scraping out the crumbly mortar and replacing it with new mortar. Scrape the loose mortar out using a joint raker, or a hammer and masonry chisel for more difficult mortar. Sweep the area using a wire brush. After you are done, spray the area with a hose and wait until it is completely dry before beginning again. Once dry, apply the new mortar to the open joints and smooth down the joints with a tuckpointing tool.
2. Caulk Around the Flue and the Crown
Cracks along the joint between the chimney flue and the crown can often be the cause of water entering your home. With a wire brush, clean out any debris such as ​moss and loose mortar. Use a caulk gun and a tube of high-heat mortar to fill this gap with a complete bead of caulk.
3. Repair or Replace Cracked Bricks
Individual chimney bricks that have a small crack or two can be repaired with a high-heat mortar and a caulk gun. Clean out the crack with a screwdriver and then sweep the crack clean with a wire brush. Squeeze high-heat mortar into the crack as far as possible. With a gloved finger, wipe the mortar clean from the crack. Use a rag to clean the area around the crack. If the brick cracks are very thin hairline cracks, you may be able to close them up by brushing them with water repellent. Severely damaged bricks should be entirely removed and replaced.
Once you have repaired your chimney, you may want to look into waterproofing the chimney as well. Need an inspection or repair performed by a professional? Cummins Restorations is here for you! Contact our helpful team today at (416) 992-7965 or cumminsrestoration@rogers.com.