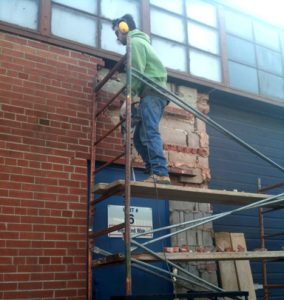 Regardless of where you live, whether it be in Toronto, Vancouver or any other part of the world, your home will require some repair and maintenance work at some point or another. It's just part of life. Especially the walls and the architectural elements that form the outer core of your home, as they are exposed to all kinds of conditions year round. If you do spot some damage to your brickwork and mortar joints, whether on the chimney or on the bricks that form your walls, you're going to need the help of a qualified masonry contractor. If you've worked with a particular contractor several times before that's great, but what if this is a process you've never been through before?! How do you pick the good contractors from the bad when there are so many masonry contractors that advertise their services? Fear not as we're going to offer you some very solid advice based on our two decades in the business.
Never Hire Masonry Contractors that Do the Following…
Sometimes it's as much about being able to spot red flags as it is about being able to tell which contractor is able to complete whatever work you require to the standards you expect. Below you're going to find some of the most severe red flags that indicate when certain masonry contractors likely aren't a good investment of your time and money.
Don't Troubleshoot Problems – Discounting some masonry contractors during your search is as easy as checking to see whether anyone has ever made a complaint against them. You can likely find this information out from your local Better Business Bureau, who act as a mediator when a problem arises between the contractor and client and no progress is made when they try to resolve the matter themselves. A high number of complaints to worrying, but a high number of unresolved complaints should mean the contractor gets crossed off your list.
Won't Show You License or Insurance – It's perfectly normal that you should want to see the licenses and insurance documents of any masonry contractors that you consider working with. After all, if they are going to be carrying out brick repair or chimney repair, they could be making serious modifications to your home and you want to know you'll be covered if anything goes wrong. If they refuse to show you these documents, you have to assume that they don't have them and you should continue your search elsewhere.
Refuse to Provide References – This doesn't always condemn a masonry contractor or mean that they're not legitimate, since newly qualified masonry contractors may not have completed any official projects yet, but even in these cases they should be able to show you examples of their work. Again, any contractor (unless recently qualified) that won't provide references probably has something to hide. All reputable masonry contractors know that quality references make closing a deal much easier, so why wouldn't they provide them?!
There are many, many more red flags to watch out for and if you would like more advice, please get in touch with our team as we would be glad to help. We can be contacted on (416) 992-7965.
Contact us for masonry contractors Toronto