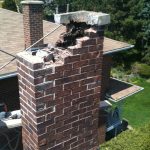 Having a chimney adds a cozy charm to your Toronto home, but it is also very important to keep the chimney properly maintained and cleaned. Even with good maintenance, however, well-used chimneys accumulate creosote buildup inside their flues and, over time, gaps in the flue that allow heat damage to come to the brick area outside the flue. The effects can be dangerous and devastating, and there are many reasons a chimney should not be left to fester if it is in any need of chimney repair.
What is Creosote?
Most problems that can occur in a chimney are caused by a buildup of creosote, a tar-like substance caused by the chemical reaction of incomplete wood combustion with the liner of your flue. Creosote buildup can cause:
Chimney Fires – Creosote is highly combustible, and a combination of a lot of it building up and very high temperatures in the chimney could cause an explosion and a fire. The fire will undoubtedly damage your chimney and may even spread to the wood frame of the house, leading to injury or death.
Noxious Debris – The debris given off by hardened creosote residue can cause a myriad of very unhealthy effects, such as:

Higher risk of cancer or similar diseases.
Eye irritation, including itchiness and blurry vision.
Skin irritation leading to acne or rashes.
Respiratory problems, such as coughing or trouble breathing.
Issues with the liver or kidney.
Increased risk of seizures, confusion, or other mental problems.
What Other Problems Can I Avoid with Prompt Chimney Repair?
Having an expert repair your chimney the minute issues crop up will also help avoid:
Carbon Monoxide Poisoning – Gasses trapped by a partially blocked chimney may find their way back into your living space. They include carbon monoxide, an invisible and odorless gas that causes blood vessel suffocation. In small doses, carbon monoxide poisoning causes headaches, nausea, and fatigue. In large doses, it can be fatal.
Animal Infestations – Chimney swifts and other small animals may take up residence in a run-down and unused chimney (not in the flue, where the smoke actually escapes), even after brick or masonry repair. Their droppings will fall into the fireplace, burn when a fire is lit, and emit fumes that cause respiratory infection.
For all these reasons and more, it is vital to your safety to call a professional to perform maintenance on your chimney at the first sign of disrepair. We at Cummins Restorations are happy to provide tuckpointing and chimney repair services to keep you enjoying crackling fires with the family while staying healthy and safe.