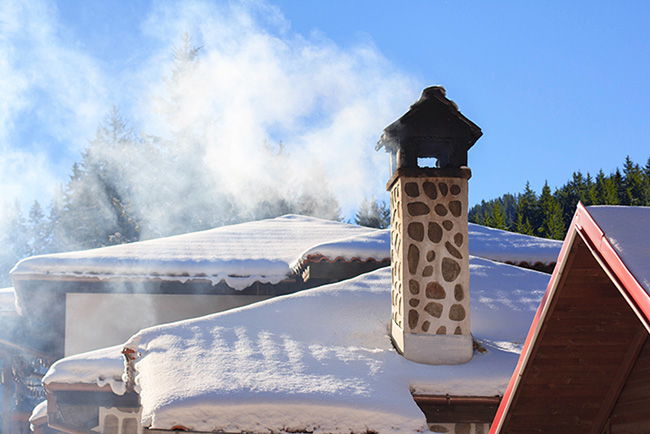 Chimney repairs during the winter? In days past, this was completely unheard of! But times have changed thanks to the progress made in both techniques and materials. These days, masonry materials that can withstand temperatures below 40 degrees fahrenheit make emergency chimney repairs possible. So while the ideal time to repair your chimney is the spring and summer, know that masonry repairs are possible in winter.
How Winter Masonry Repairs Can Work
Formerly, the biggest roadblocks to making chimney masonry repairs in winter were the materials used for the job. Until recent advances in masonry products, masonry repairs would not set if temperatures were below 40 degrees Fahrenheit. In spite of frigid temperatures, new masonry materials can effectively be used for chimney masonry repair. The process involves the use of tarps and heaters, as chimney sweeps perform the work while battling moisture and cold temperatures. The bricks need to be warm enough that curing of the building materials is possible.
The Optimal Time for Chimney Repairs
Masonry materials cure best in the summer months, which is why we recommend completing your chimney inspection during the Spring so you can schedule any necessary repairs for the warmer months. Don't delay! Qualified chimney sweeps are almost always booked solid from fall through winter because of the tendency to put off chimney care.
Don't Delay These Masonry Emergencies
There are many times when chimney experts recommend that masonry repairs be performed in winter because of the seriousness of the existing damage. If a chimney is cracked, for instance, rain, sleet, and snow can cause water to infiltrate the exposed masonry. This moisture causes a process of destruction that cannot be reversed. If needed repairs are neglected, the chimney will begin to lean and could eventually collapse, creating even more needed repairs.
When repairs are needed in winter for your chimney, contact your trusted chimney masonry experts at Cummins Restorations. With their training, expertise, and experience, you can count on winter chimney repairs that deliver the best possible outcome. Get in touch with our amazing team today at (416) 992-7965 or cumminsrestoration@rogers.com.