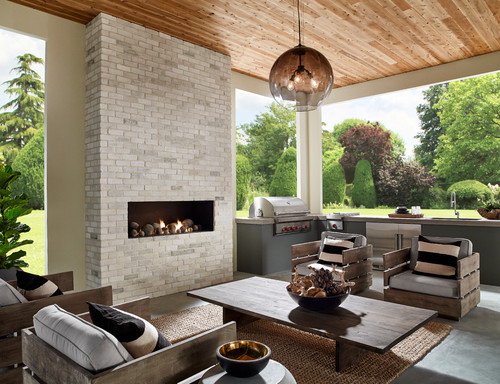 The chimney liner is one of the most important components for the safety of your fireplace and chimney. It stops carbon monoxide from seeping through porous bricks and into your home, prevents hot embers in the smoke from slipping through a crack in the flue and igniting combustible materials around the chimney, and absorbs high temperatures and harsh chemicals produced by the fire that could cause serious structural damage or fires. Since chimney liners are so important, it is no surprise that you'll want one that lasts for a while.
How Long Do Chimney Liners Last?
The answer to this question depends on the type of chimney liner you have. Clay tile liners and cast-in-place liners typically last around 50 years. Stainless steel flue liners generally last for 15 to 20 years (though low quality liners may not even last for five). Good quality stainless steel chimney liners often come with a lifetime warranty. 
What Is The Best Kind Of Chimney Liner?
Of the above, which is the best kind to choose for your home and chimney? A clay tile liner is a good choice when you are building a new fireplace because the materials are inexpensive and the liner will have a long life. However, it is not a good choice for a replacement liner as it is incredibly challenging and expensive to install a new one.
A stainless steel liner is the best choice if you have a prefabricated fireplace or are installing a fireplace insert. It is easy to install and can be connected directly to your heating appliance.
A Cast-in-place liner is the best choice if you have a masonry fireplace with a clay tile liner that is failing or if you have a chimney with structural problems. The cast-in-place chimney lining is made with an insulated mortar-like mixture that is perfect for filling in deteriorating mortar joints and reinforcing the chimney's structure.
Does Your Chimney Liner Need To Be Replaced?
As always, the best way to know whether your chimney liner needs replacing is to have your chimney inspected. But the main reasons for replacing your chimney liner would be deterioration or corrosion, or a change in the fireplace such as switching from a wood burning to gas fireplace.
Now that you know how long a chimney liner will last, you may have more questions about your masonry chimney! Call Cummins Restorations at (416) 992-7965 for your chimney masonry needs in Toronto today!