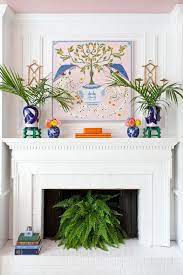 The weather is gorgeous. The flowers are in full bloom. The birds are chirping. And the thought of lighting your fireplace is far, far ahead of you. Which means now is the perfect time for some summertime cleaning! Ensuring your chimney and fireplace are ready to go before the frost comes in makes for a smooth seasonal transition. Here are our top 3 summer chimney cleaning tips.  
Schedule A Chimney Inspection & Cleaning
The keen eye of a professional will be able to notice any sign of wear and tear, cracking, leaks, or blockages. The seasoned hands of a professional will be able to ensure every nook and cranny of your chimney, so there is no fear of missed creosote buildup. Remember – the closer to Winter we get, the busier these professionals will be. Now is the time to schedule these essential tasks. Before you lock up the fireplace, remember to remove any leftover ashes to improve air quality and keep a clean space.
Close The Damper
Leaving the damper open can not only lead to critters making a home in your chimney, but can also lead to increased energy bills! After all, the weather is hot. You'll want to have that AC cranking. Unfortunately, all that air can flow right out. Please note – if you have a gas fireplace you may wish to leave the damper open in the event of a gas leak.
Mind The Chimney Cap
Every chimney should have a chimney cap. When complete with mesh, it will help to keep out animals and birds from entering the chimney. When in use, a chimney cap will also help prevent hot embers from the chimney landing on the roof and catching it on fire.
Aside from having your chimney inspected and cleaned by a professional, you can also reach out to them for any or all questions you may have. While the cold and snow may be far ahead of us, the time to prepare your chimney is now. You can trust Cummins Restoration to both inspect and repair your chimney today. Our family business provides the best masonry and chimney repair in the region. Call us at (416) 992-7965 to schedule an appointment.